What is Content Marketing?
You've probably heard the term "content marketing" buzzing around many marketing teams and offices. You've heard it so often that you feel like you should already know what it means, but you aren't sure. So what is content marketing, and how does it differ from other kinds of marketing?
If this story sounds familiar, then you're in the right place. Today we'll dive into what content marketing is and why you should make sure to include it in your marketing strategy.
What is Content Marketing? The Definition
According to the Content Marketing Institute, "Content marketing is a strategic marketing approach focused on creating and distributing valuable, relevant, and consistent content to attract and retain a clearly-defined audience — and, ultimately, to drive profitable customer action."
Content marketing is different from traditional advertising because instead of pitching your product or service, you provide helpful information to your target audience to guide them through their challenges and problems.
Content marketing aims to establish trust and credibility with your audience so that they're more likely to do business with you.
What Content Marketing is Not
Now that we have answered, What is content marketing? Let's review what content marketing isn't.
It's not a short-term strategy.
Content marketing is not a one-time event but a continuous process that businesses should integrate into their marketing strategy. A well-thought-out content strategy is a must to start seeing results.
78% of businesses who believe their content marketing was very successful in 2021 had a documented content marketing strategy. Content isn't something you just make up on the fly so work closely with your marketing team to develop a strategy that will help you reach business objectives.
It's not one type of content.
It is not just about creating blog posts or articles but also includes videos, infographics, social media posts, etc. The more you incorporate various content channels, the stronger your strategy will become.
It's not a hard sell.
It is not about hard-selling your product or service. Instead, content marketing helps provide valuable and helpful information to your audience. Then, when your audience needs the products or services you offer, you'll be top of mind.
It's not advertising.
Traditional advertising is all about getting people to buy something as quickly as possible. It's a one-time push and often uses hard-sell tactics that can be off-putting to potential customers. Content marketing is creating assets that can be used over time to attract and retain customers without directly selling to them.
What are the Benefits of Content Marketing?
Content marketing is one of the most effective ways to reach your target audience. According to the Content Marketing Institute, "content marketing generates three times more leads than paid search advertising and doubles the ROI of traditional outbound marketing."
Not only is content marketing a great way to generate leads, but it's also a great way to build relationships with your customers. When you provide valuable content, your customers will see you as an authority in your industry and be more likely to do business with you. Let's learn about the top benefits below.
Builds Trust
96% of the most successful companies say content marketing has helped them build credibility and trust with their audience. It makes sense, creating helpful content that guides your audience through the buyer's journey is an effective way to build trust and credibility with your audience.
Stand Out
Creating content is time-consuming, and it can be expensive. Not all companies will have the time or resources to invest in creating content marketing and because of this, using content marketing helps you stand out from the competition.
Educates Customers
Content is a great way to educate your customers about your product or service. You can create content for every step of the buyer's journey, awareness consideration, and decision to guide your audience through their choices.
Increase Web Traffic and Leads
Content marketing can increase website traffic and leads. Work with a content marketer knowledgeable in SEO and knows how to create content funnels. You can benefit from strategies that help you increase your company's web traffic and even create content that will capture leads.
Drive Brand Awareness
Great content is a fantastic way to drive brand awareness. With your content, you'll be able to develop your brand voice and become an authority within your industry.
Types of Content Marketing
Blog Posts
Blog posts are one of the most popular types of content marketing. And for a good reason, businesses who prioritize blogging are 13x more likely to have a positive ROI on their efforts.
Blogs are a great way to share your insights and expertise with your audience. Blog posts can help you position your company as a thought leader within your industry while building trust and credibility. Additionally, if your blog posts are SEO optimized, you'll be able to bring in traffic from people searching for information on topics you've written about.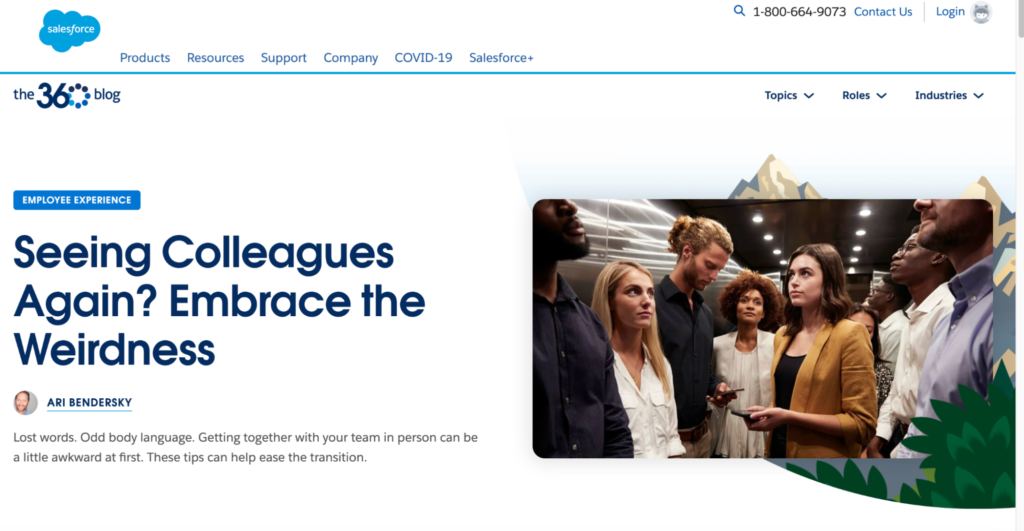 Source: salesforce
The salesforce 360 blog is about highlighting business change agents and Trailblazers who are navigating today's turbulent environments. The blog covers topics helpful to their B2B audience, including how to be a better leader, improving happiness in the workplace, and even tactical advice on how businesses can address climate change.
Ebooks
eBooks or white papers are another great way to provide valuable information to your audience. They can be used to educate customers about your product or service or to provide them with tips and tricks they can use to improve their lives. Some companies give away their ebooks freely, while others only give the content in exchange for information like an email address or joining the newsletter. This is a great lead generation strategy as 63% of B2B buyers are willing to give their contact info in exchange for an eBook.
Source: Hubspot
You'll see an example of an ebook that HubSpot created, An Introduction to Lead Generation in the screenshot above. In exchange for basic information, including your name and email, HubSpot will give their audience a free ebook guiding them through how to convert website visitors into leads. The guide is helping users solve the age-old problem of website conversion. You can apply this same framework to your own business, offering a guide with expert advice on a problem that your business can help solve.
Videos
Video is becoming an increasingly popular form of content marketing. Videos are a great way to engage and connect with your audience and can be a powerful tool for storytelling.
Podcasts
Podcasts are another great way to share your content with your audience. They are a great way to connect with customers on a more personal level and can help you build trust and credibility. In fact, 53% of businesses who leverage podcasts and other audio content say it's the most effective format they use.
Source: Proof to Product
Above you'll see Proof to Product, the podcast which takes people behind the scenes of growing a product-based business. Every week they take readers through common issues for entrepreneurs and companies that are product-based, recent topics include navigating supply chain issues, tips on scaling, and even strategies on how to combat imposter syndrome.
Webinars
Many companies use webinars as a critical part of their content marketing strategy. Webinars are affordable and a great way to capture leads or nurture relationships. In addition, if done correctly, webinars can serve as a piece of evergreen content to display on your resource page or be repurposed into other forms of content.
The above webinar produced by xtalks, How CPG Brands Can Succeed in a Changing Retail Industry is a great example of how brands can leverage this form of content. The webinar has host Andrew Lynch, President and Co-Founder of Zipline Logistics, guide his ideal customers, consumer-packed good brands, through how to maintain retailer relationships and stay on shelves. Its helpful content provides the audience with tactical advice on how to succeed in a tough industry and positions Zipline Logistics as thought leaders within the CPG space for hosting the webinar.
Infographics
Infographics are easily shareable and help to elevate your brand's visuals. They are also an effective way to visually break down a complex topic, using illustrations to help your audience understand subjects quickly. Additionally, repurposing content like blogs or ebooks into infographics can extend the mileage and visibility of your content.
Below is an example of how the United Nations repurposed its Sustainable Development Goals Report into infographics. There are 17 infographics in total, below being how to take action on climate change and its impact on society. Instead of reading the full in-depth report key information is delivered in an easily skimmable and visually appealing infographic.
Source: United Nations
How Do I Use Content Marketing?
Content marketing is designed to attract, engage, and delight customers as they make their way through the buyer's journey. To be successful with content marketing, you'll need to create a marketing strategy that targets your audience at the right time during each part of the buyer's journey. Let's explore how this could look.
Awareness
At this stage in the buyer's journey, a buyer is aware that they have a problem. However, they don't know how to solve it and are gathering information about what they could do to solve their issue. Design your content to answer common questions, solve pain points, and help buyers overcome challenges in this stage. Make the content helpful and educational, don't try to sell anything.
Types of Content For Awareness Stage: blog posts, videos, infographics, ebooks, podcasts, newsletters
Examples of Awareness Stage Content Marketing
A wedding planner writes an ebook on "How to Plan a Wedding."
A fitness company creates a blog on "The Benefits of Exercising."
A B2B tech company writes "Technology Guide for Enterprise Companies."
Consideration
In this stage, you will want to provide more in-depth information about how to solve your audience's pain points and challenges. Content in the consideration stage is filled with tactical tips that help buyers determine what they need. In this stage, you'll start to offer solutions that gently point toward your product or services.
Types of Content Consideration Stage: ebooks, whitepapers, how-to articles, email drip campaigns
Examples of Consideration Stage Content:
An event planning company creates a guide, "How to Calculate Event ROI."
An Internet Service Provider makes a blog, "7 Reasons Your WiFi is Slow and How to Fix Them."
A Wedding Planner Creates an Email Drip Campaign Series "Wedding Planning Bootcamp"
Decision
Once a customer is ready to make a purchase, you can provide them with the final push they need by creating targeted content for the purchase stage of the buyer's journey. For example, you should give pricing information, product specifications, and customer reviews at this stage.
Types of Content for Decision Stage: Case studies, Buyer's Guide, Webinar
Examples of Decision Stage Content:
A project management tool creates a case study on how their client was more productive using their tools.
A furniture store puts out a Buyer's Guide on Choosing the Right Couch For Your Lifestyle.
A software company produces a webinar on how to use the software, complete with live demonstrations and q&a.
Final thoughts: What is Content Marketing?
Content marketing is a powerful tool to help you achieve your business goals. If you're not using it yet, it's time to start. What content marketing can do for your business is limitless. Need help getting started? We'd love to help. Contact us today to get started!